In February 2022, the APEX Group welcomed the Federal Minister of Economics, Robert Habeck, to its headquarters in Rostock-Laage. He was accompanied on his inaugural trip to Mecklenburg-Western Pomerania by the Minister of Economic Affairs, Infrastructure, Tourism and Labour, Reinhard Meyer, and Claudia Müller, the Federal Government's Coordinator for Maritime Affairs and Tourism. After APEX Managing Directors Mathias Hehmann and Peter Rössner received the delegation and introduced the company, the participants toured the premises and production facilities of the APEX Group. Habeck was convinced of the energy future of green hydrogen: "There will now be a very rapid ramp-up in a short time. Politicians must create the legal basis, but also provide financial support. Among other things, the EU has defined hydrogen production as a project of particular strategic interest (IPCEI – "Important Project of Common European Interest"). In the previous legislative period, Germany defined 62 projects to be funded by the state. Five of them from Mecklenburg-Vorpommern and one here at APEX." The APEX Group has set itself the goal of making green hydrogen available to as many people, institutions and industries as possible as an energy carrier in a time and location-independent form. As a founding member of the hydrogen energy cluster Mecklenburg-Vorpommern e.V. and with its participation in the East German hydrogen association "doing hydrogen", APEX Group is committed to this goal nationwide and throughout Germany.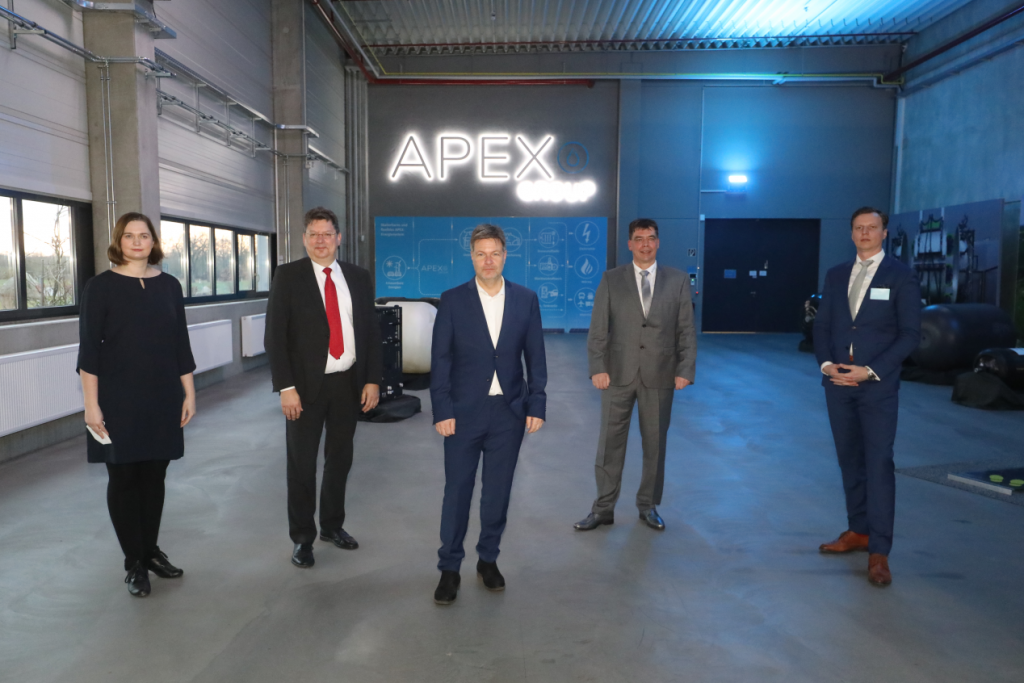 Group photo: f.l.t.r: Claudia Müller – Federal Government Coordinator for Maritime Economy and Tourism , Reinhard Meyer – Minister for Economic Affairs, Infrastructure, Tourism and Labour MV, Robert Habeck – Federal Minister for Economic Affairs and Climate Protection, APEX Group Managing Directors Mathias Hehmann & Peter Rössner
Minister Habeck refuelling a hydrogen vehicle at an APEX Group filling station.