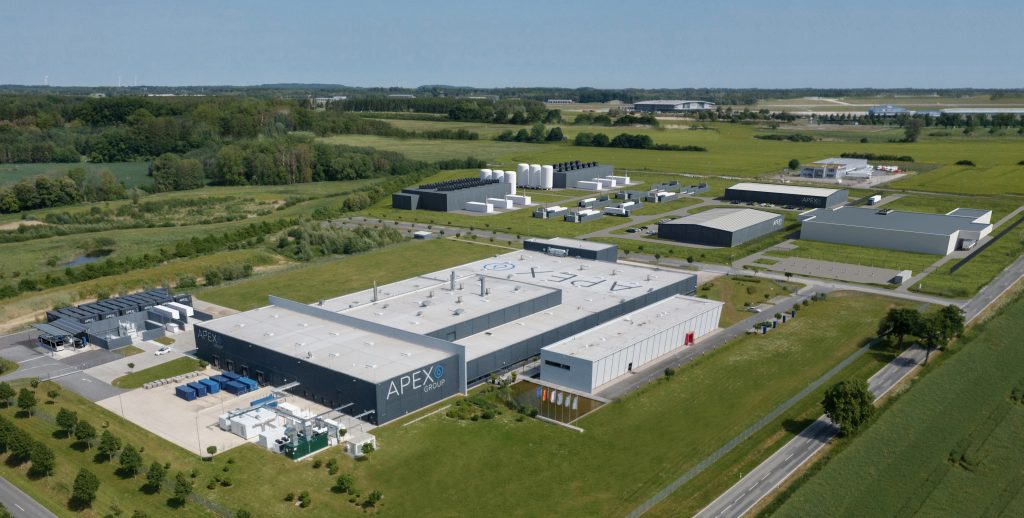 Federal Ministry for Economic Affairs and Climate Protection supports the project and confirms the early start of measures
The APEX Group, located in Rostock-Laage will build a 100 MW electrolysis plant for the production of green hydrogen at the Laage site by 2027. The German Federal Ministry of Economics and Climate Protection has now granted approval for the early start of the project. The project is part of the East German hydrogen hub "doing hydrogen" and is supported by the European IPCEI funding (Important Project of Common European Interest). The expected investment volume is around €199 million. The project is scheduled to start in February 2023.
The aim of "doing hydrogen" is to form a strong platform for the hydrogen economy in eastern Germany, linking innovative producers, gas grid operators and major consumers. In this context, northern Germany acts as a center for hydrogen imports and hydrogen production. The electrolysis plant to be built by APEX Group will thus become part of the producer community in the north. In order to be able to transport the generated quantities of hydrogen to the south, other partners in the "doing hydrogen" project are converting pipelines for hydrogen transport so that significant quantities can be transported from Mecklenburg-Vorpommern to Thuringia up from 2025.
The APEX Group's 100 MW electrolysis plant in Rostock-Laage will have a production capacity of more than 7,500 tons of green hydrogen per year, which will then be fed into a pipeline. The plant will be operated by APEX Group itself on site after its planned completion in 2027 and, according to current expectations, will generate recurring revenues of €45 million annually[1].
For the implementation of this major project, which will play a significant role in the German hydrogen infrastructure, APEX Group was selected by the German Federal Ministry of Economics and Climate Protection as one of a total of 62 major projects across Germany that will benefit from European IPCEI funding. "The IPCEI project is one of the most important and decisive projects for APEX Group in its current business development. With the 100 MW project, we will project the next largest reference case as well as achieve the next milestones of APEX", says Peter Rößner, CEO of APEX Group, and adds, "It is a special concern for us – especially in Mecklenburg-Vorpommern – to create value. In addition to securing existing jobs as well as creating new ones, it is of great importance for APEX to expand its energy solidity as well as to strengthen and support the topic of renewable energies and the related hub in MV with this project."
To put this in perspective: A car can travel about 600 km with 5 kg of hydrogen. Around 70 kg of hydrogen are needed to produce one ton of "green" steel.
[1] Based on 7,500 tons of green hydrogen sold annually at an average selling price of 6 euros per kilogram / currently, the selling prices for green hydrogen average around EUR 12 per kilogram.